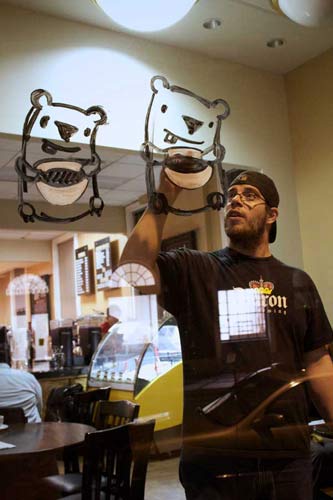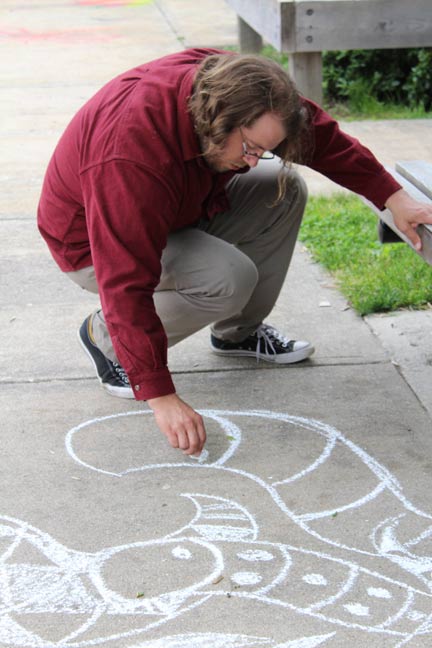 Home of the Mighty Lark
Mike Lewis, (AKA The Mighty Lark,) began painting, drawing and illustrating professionally in the summer of 2003. He holds a BFA in Illustration from Syracuse University and an MFA in Studio Arts from Maine College of Art. The Mighty Lark's work has appeared in magazines, coloring books, zines, and journals as well as on logos, t-shirts, phone cases, and tote bags. His paintings and drawings have been displayed on everything from billboards in New Orleans, to solo shows on gallery walls in Seattle, Portland, ME, Astoria, OR and New Hampshire, and in group shows across the United States and in Portugal and Ireland. In 2013 and 2014, Mighty Lark taught continuing studies courses in drawing, painting, and journaling at the Maine College of Art. He has taught 2D Design, Digital Foundations and Illustration at Southern Maine Community College since January of 2013.
Freehand Armada
In 2013, Mike founded Freehand Armada, a collective of young artists who share a common interest in skateboarding and graphics, hip-hop and punk rock, Beat poetry, and other elements of counter culture. Freehand Armada has held several themed exhibits, showing at The Dooryard Studios, Central Gallery, and at Converge, a Portland, ME street festival.
A Little More About Mike
Mike lives and works in Portland, Maine with his wife, Courtney, his son, Austin, and their two cats Jasper Johns and Momo. He is found either at his studio in the State Theater building or at home with a cat or toddler in his lap or working at his drafting table. A native Northern New Yorker, Lewis is the son of a Forest Ranger and a substitute school teacher. He spent the majority of his childhood believing he would be an engineer, but decided last minute before attending university that he would be an artist instead. He hasn't regretted a second of it. In addition to art, Mighty Lark is an avid reader and a prolific audiophile.